Week's news analysis
---
Will legal European actions
speed vaccines shipments?
After months of research, European countries will soon have a new vaccine against Covid-19 at their disposal. January 29, regulators have authorized AstraZeneca's two-dose COVID-19 vaccine. The product developed with Oxford University is conditionally approved across Europe in people ages 18 and older.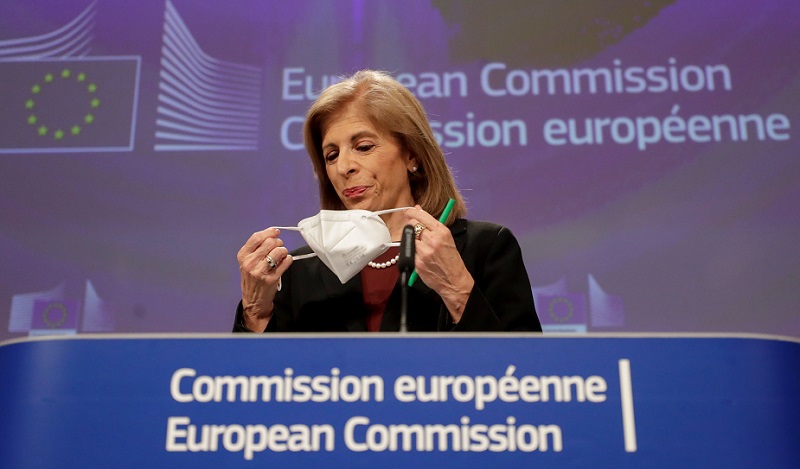 EU Commission health COVID-19 Vaccines
European Commissioner in charge of Health Stella Kyriakides gives press conference on AstraZeneca vaccines at EU headquarters in Brussels, Belgium, 27 January 2021. EU is urging pharmaceutical company AstraZeneca to publish their vaccine contract, amid an escalating row over delivery shortfalls
But this new vaccine will not settle deliveries debates as the UK company has announced that due to manufacturing problems in its supply chain it would drastically cut first-quarter shipments to the continent. According to The Wall Street Journal, the source of the trouble is a AstraZeneca' partner (
Novasep
) facility in Belgium, which has only been able to turn out about a third of the yield the company had been expecting.
AstraZeneca was originally set to deliver 100 million doses to Europe in the first quarter, but that number has been reduced to 31 million. AstraZeneca spokesmen explained that there would not be "scheduled delay to the start of shipments", but "initial volumes will be lower than originally anticipated due to reduced yields at a manufacturing site within our European supply chain."
AstraZeneca's decision raised a wave of protests in Europe. January 25, European Commissioner for
Health and Food Safety Stella Kyriakides
said the European Union "pre-financed the development of the vaccine and the production and wants to see the return." Earlier in the month, European Council President Charles Michel said in a letter that the European Union should explore legal means to secure supplies of Covid-19 vaccines it contracted to purchase if negotiations with companies over delayed deliveries prove unsuccessful.
The European Union has asked if AstraZeneca could divert supplies from Britain, and also planned to tighten oversight of vaccine exports from the bloc. According to AstraZeneca, it is not contractually obligated to deliver doses on a specific timeline under its EU agreement. EU officials asked then the anglo-swedish company to release its contracts. In a statement to Reuters AstraZeneca underlined that its Covid-19 vaccine supply chains were set up around individual agreements with countries or international organizations. Vaccines produced under the deals are "dedicated to the relevant countries or regions" and the deals rely on "local manufacturing wherever possible"
Some of the EU's 27 member states have proposed legal action to force pharmaceutical companies to honour vaccine supply commitments, and the letter to four EU government leaders by CharlesMichel suggests that option is now under serious consideration. He said that if it were "deemed politically opportune", EU action could include recourse to the bloc's Article 122 under which EU states would legally take "measures appropriate to the economic situation" in case of severe supply difficulties. "This would give the EU and member states the legal means, by adopting appropriate urgent measures, to ensure effective vaccine production and supply for our population," Michel said in his letter to the leaders of Austria, the Czech Republic, Denmark and Greece, according to Reuters. The road to get all European people vaccinated is still a long way. And all legal means or urgent measures to get vaccines shipments on time are welcome.
January 31, the European political mobilisation achieved its first result, as European Commission president, Ursula von der Leyen, announced that AstraZeneca will eventually "deliver 9 million additional doses in the first quarter (40 million in total) compared to last week's offer and will start deliveries one week earlier than scheduled".