Week's news analysis
---
Unither Pharmaceuticals inaugurates new production workshops at its Coutances site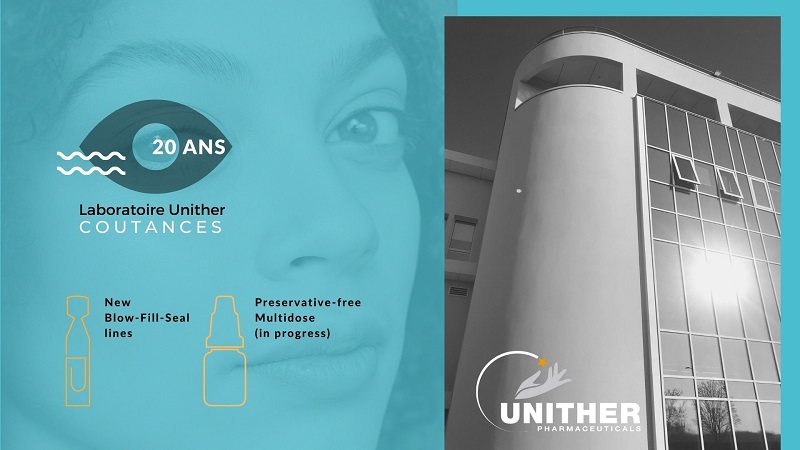 Unither Pharmaceuticals inaugurates new production workshops at its Coutances site/ DR
Unither Pharmaceuticals has the largest sterile ophthalmic monodose production capacity in the world. The world leader in ophthalmic monodoses is also celebrating its 20th anniversary.

Founded in France in Amiens in 1993, the Unither Pharmaceuticals group is a world player in the manufacture of single-dose galenic forms for pharmaceutical laboratories and generic manufacturers (eye drops, physiological serums and anti-asthmatic drugs in sterile unit doses and stick-packs in particular).

Leader in the ophthalmology market, the Unither Coutances laboratory manufactures more than 1.2 billion sterile single-doses (Blow-Fill-Seal) for ophthalmic use (dry eye treatment, glaucoma, new chemical entities, etc.). The Coutances site has a dedicated team to manage the transfer and/or development of new products. Approved among others by the European (EMA), American (FDA), Brazilian (ANVISA) and Korean (KFDA) health agencies, the site meets international quality and regulatory standards, and sells its products in more than 75 countries

"With the inauguration of its new premises and production workshops, the Unither Coutances laboratory has acquired the largest production capacity of sterile ophthalmic single doses in the world with a capacity of 2 billion doses" declares Arnaud Dugué, Site Director . The new workshops accommodate the installation of 2 rotary Bottlepack machines and 2 new Bottlepack machines planned for the coming months, making a total of 13 rotary Bottlepack lines on the site. Work on a new 4,500 m² storage space will begin by the end of the year.

The site also offers a new aseptic filling technology: multidose without preservatives (MDSC), combining for the first time two formats (Aptar and Nemera) on the same machine.

With its seven industrial sites and an innovation and development center, the Unither Pharmaceuticals group is based in France, the United States, Brazil and China. the group estimates a forecast turnover of €380 million in 2022.
TO READ CDMO CEOs: Visions and strategies for 2022 and after
---