Week's news analysis
---
The good performance of CDMOs
on the stock markets.
Although the market suffered a substantial loss in the weeks from February 21 to March 23, 2020, the S&P 500 and S&P Pharmaceuticals Select Industry Index increased during the year 2020 by 20%. The values of public CDMO shares continued to outperform in 2020, with growth for the best between 70 and over 90% (Lonza, West Pharma and Catalent). The smallest increases are over 40% (Siegfried and Thermo Fisher Scientific).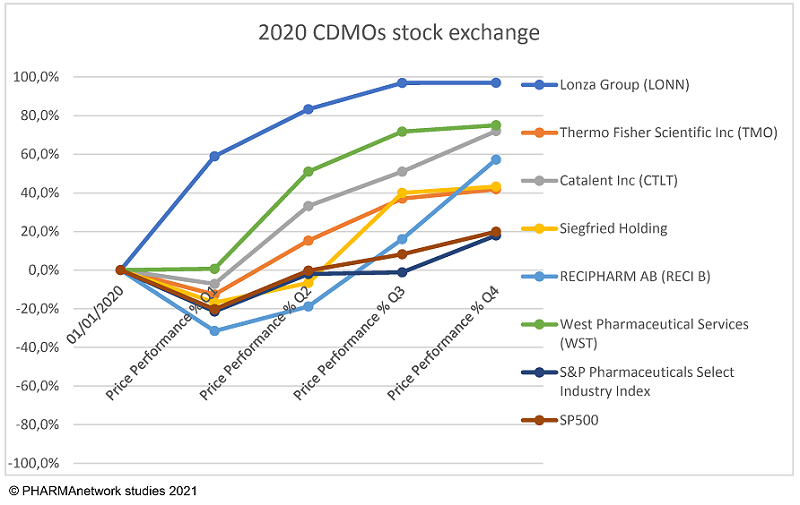 Catalent's share value has increased fourfold in two years (from $ 31 to $ 125):

The Biologics segment represented 44% of Catalent's total net revenue in the second quarter of fiscal 2021. Net revenue from the Biologics segment was $ 403.9 million for the second quarter of fiscal 2021, an increase of 79% as reported and 76% in constant currency, compared to the second quarter a year ago. Segment EBITDA in the second quarter of fiscal 2021 was $ 135.5 million, an increase of 115% as reported and 109% in constant currency compared to the second quarter a year ago. Segment EBITDA margin was 33.5% in the second quarter of fiscal 2021 compared to 28.0% in the second quarter of the prior year.
The value of West pharmaceutical shares has tripled in two years from ($ 97 to $ 283):
From January to September 2020, West pharmaceutical consolidated organic sales growth was 15.1%. The consolidated gross margin amounts to 35.5%. Organic sales growth for contract manufacturing is over 15%
Lonza share value has doubled in two years (CHF 254 to CHF 569):
Lonza (with the Specialty Ingredients segment - LSI - reported as discontinued operations) reported 2020 strong sales of CHF 4.5 billion, sales growth of 12.0%, and CHF 1.4 billion CORE EBITDA, resulting in a margin of 31.2%. The results mainly reflect the Pharma Biotech & Nutrition segment (LPBN), which delivered 12.2% sales growth and a CORE EBITDA margin of 32.1%. The LSI segment, reported as a discontinued operation, delivered a strong performance with 3.4% sales growth alongside an improved 20.3% 7CORE EBITDA margin .. In the LPBN business, Lonza collaboration with Moderna on its COVID-19 vaccine represented a milestone for Biologics business in 2020. Production of the drug substance for Moderna's COVID-19 Vaccine is underway at both Lonza Portsmouth (USA) and Lonza Visp (CH) sites.
Thermo Fisher Scientific share value has doubled in 2 years ($ 220 to $ 462):
Thermo Fisher Scientific revenue for the full year grew 26% to $ 32.22 billion in 2020, versus $ 25.54 billion in 2019. Organic revenue growth was 25%. Thermo Fisher Scientific delivered an year of high-impact innovation, establishing leadership in COVID-19 testing - highlighted by the Applied Biosystems TaqPath COVID-19 Combo Kit and Amplitude Solution for high-throughput PCR-based testing. Thermo Fisher Scientific significantly increased capital expenditures during the year, investing $ 1.5 billion to support near- and long-term growth opportunities across businesses. In the quarter, Thermo Fisher Scientific announced plans to manufacture plasmid DNA for cell and gene therapies in Carlsbad, California, and to expand our bioproduction cell culture media site in Grand Island, New York.
For the full year 2020, Laboratory Products and Services Segment revenue grew 16% to $ 12.24 billion, compared with revenue of $ 10.60 billion in 2019. Segment adjusted operating margin was 10.4%, versus 2019 results of 12.5%. The Pharma services revenue amounted to $ 4.5B.
The fine performances of Siegfried and Recipharm with more than 80% in two years.
On December 14, 2020, EQT IX, through
Roar BidCo AB
, announced a public offering of SEK 220 in cash per share to the shareholders of
Recipharm AB
and SEK 1,427,010 per Recipharm convertible bond with a par value of 1,000,000 SEK. The price per class B share in the Offer represents a premium of: 24.4 per cent compared to the volume-weighted average trading price of SEK 176.87 on 11 December 2020. Consort Medical consolidated from February 2020. Net sales amounted to SEK 11,069 million (7,457 ), an increase of 48% and EBITA increased by 66% and amounted to SEK 1,305 million (788) corresponding to an EBITA margin of 11.8% (10.6)
In September,
Siegfried
announced the intended acquisition of two pharmaceutical manufacturing sites from Novartis in the Barcelona region. Following the approval from all relevant authorities and with all additional closing conditions being met, the acquisition was completed on 4th January 2021 with effect as of 1st January 2021. The two manufacturing sites in Barberà del Vallès and El Masnou are ideal complements to Siegfried's existing activities in the field of drug products, in which Siegfried now achieves the targeted critical size. With the two new sites, Siegfried's global network now consists of eleven sites on three continents with about 3'500 employees. Following the acquisition the overall sales of the Siegfried Group are expected to exceed 1 billion Swiss francs in 2021.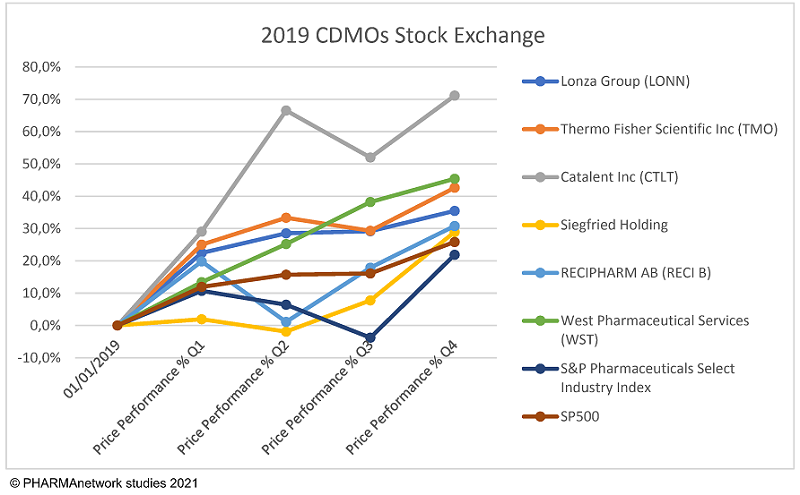 ---