Week's news analysis
---
South Africa's Aspen COVID-19 vaccine plant risks closure after no orders-executive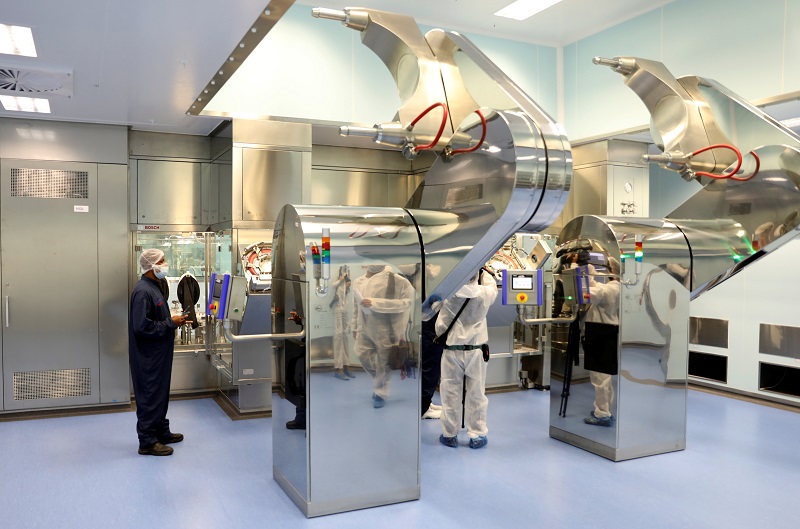 A worker at the South African pharmaceutical major Aspen Pharmacare, is seen at its Johnson & Johnson COVID-19 vaccine facility in Gqeberha, South Africa, October 25, 2021. REUTERS/Siphiwe Sibeko
Africa's first COVID-19 vaccination plant, touted last year as a trailblazer for an under-vaccinated continent frustrated by sluggish Western handouts, risks shutting down after receiving not a single order, a company executive said on Saturday 30 April.

South Africa's Aspen Pharmacare negotiated a licensing deal in November to package and sell Johnson & Johnson's COVID-19 vaccine and distribute it across Africa.

The World Health Organization (WHO) called the deal a "transformative moment" in the drive towards levelling stark inequalities in access to COVID vaccines.

With only a sixth of adults in Africa fully vaccinated, according to the latest WHO figures from the end of March, Aspen's agreement to sell an Aspen-branded COVID-19 vaccine, Aspenovax, throughout Africa seemed like a sure bet.

South Africa, which has vaccinated 30% of its population, also looks set to experience a fifth wave of infections.

Yet, "There've been no orders received for Aspenovax," Aspen senior director Stavros Nicolaou told Reuters over the phone.

"If we don't get any kind of vaccine orders, then clearly there'll be very little rationale for retaining the lines that we're currently using for production," he said of the COVID-19 vaccine plant in Gqeberha, Eastern Cape.

African countries have struggled with logistical issues, lack of skilled staff, cold chains and other problems surrounding the distribution of vaccines. Another issue is that, after initially leaving Africa out in the cold, donor countries have since paid up and the continent is now well supplied.

Nicolaou said that in the long run the aim was to shift to producing other vaccines but that the firm had banked on these initial volumes to buy it time to establish the operation.

"If you don't breach this short term gap with orders, you can't sustain these capacities on the continent," he said, at a time when health officials want to vaccinate three-quarters of the continent's population.

The African Union's goal is to produce 60% of all vaccines administered in Africa locally by 2040, up from the current 1%, and several such plants are being set up.

"If Aspen doesn't get production, what chance is there for any of the other initiatives?" Nicolaou said.

International agencies and charitable foundations providing COVID-19 vaccines for Africa should order African-made vaccines, South African President Cyril Ramaphosa told a global COVID-19 summit on 12 May.

Ramaphosa's comments came after South African pharmaceutical company Aspen said it could slash its capacity to produce a COVID vaccine manufactured with drug substance from Johnson & Johnson (J&J) after getting no orders. read more

After struggling early in the pandemic to secure COVID vaccines as rich countries hoarded available doses, many African countries are now well-supplied with shots but have struggled to get them into arms. The challenges include hesitancy and logistics.

Ramaphosa told the summit co-hosted by the United States that African manufacturers must be supported to ensure developing capabilities on the continent were retained.

"International agencies that have had a lot of money donated to (them) for purchasing and procuring vaccines for developing economy countries are not buying vaccines from African vaccine manufacturers. Even for those vaccines that are destined for African countries," Ramaphosa said. "This immediately just devalues the whole process of local manufacturing."

"A number of African countries are now stepping up to produce vaccines for the 1.3 billion Africans, ... vaccines produced in Africa must be procured in Africa for Africa's people."

Separately on Thursday, a senior World Health Organization (WHO) official told a briefing that lessons would be learnt from Aspen's difficulties.

Dr Abdou Salam Gueye, WHO Africa's director of emergency preparedness and response, said the Aspen project had shown that good COVID-19 vaccines could be produced in South Africa.

He said the lack of orders was because global vaccine distribution scheme COVAX, the main buyer of vaccines for Africa, had enough supplies.

Vaccines alliance Gavi, which co-leads COVAX, said in a statement that when it was negotiating with J&J about procuring its vaccine it had been enthusiastic about getting doses produced by Aspen, but J&J decided to supply COVAX from other sites in its global manufacturing network.

Gavi said it had a surplus of donated and procured COVID vaccines for now and that new purchasing decisions would be based on demand.

John Nkengasong, director of the Africa Centres for Disease Control and Prevention, said global health security would be undermined if companies like Aspen were not backed.

"We have all lived through this challenge of inequity in vaccines, access and distribution, we don't want to live through that again," he said.
TO READ BioNTech invents mobile vaccine manufacturing modules
---