Week's news analysis
---
New antibody drug helps patients breathe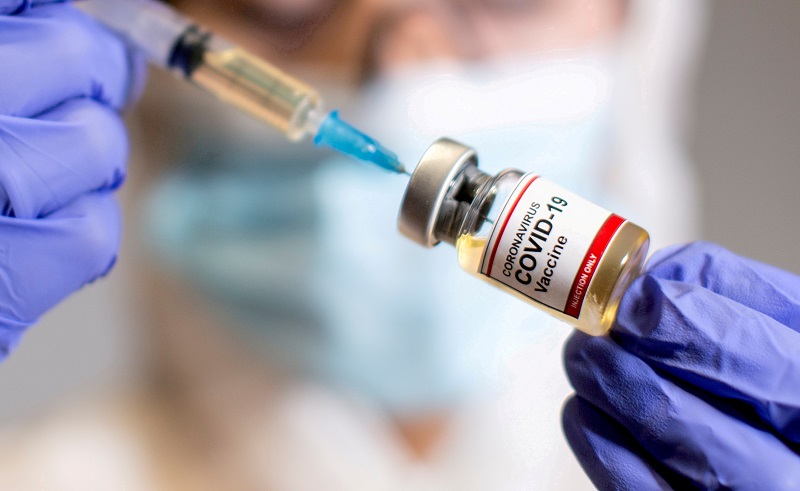 A woman holds a small bottle labelled with a "Coronavirus COVID-19 Vaccine" sticker and a medical syringe in this illustration taken October 30, 2020. REUTERS/Dado Ruvic
The following is a roundup of some of the latest scientific studies on the novel coronavirus and efforts to find treatments and vaccines for COVID-19, the illness caused by the virus.

New drug helps COVID-19 patients breathe on their own
When a new monoclonal antibody drug was added to treatments being given to hospitalized COVID-19 patients who were still breathing on their own, the drug - lenzilumab from
Humanigen Inc
- significantly improved their odds of not needing invasive mechanical ventilation, researchers found.
The 540 patients in the randomized trial were already receiving a variety of standard treatments. Half of them also received lenzilumab via three intravenous infusions. In a paper posted on Wednesday on medRxiv ahead of peer review, the research team reported that patients in the lenzilumab group had a 54% better chance of surviving without needing mechanical ventilation. In patients receiving steroids and Gilead Sciences antiviral drug remdesivir, the addition of lenzilumab improved survival without the need for mechanical ventilation by 92%.
In patients under age 85 whose immune system was in the early stages of triggering a life-threatening inflammatory response, lenzilumab improved the odds of ventilator-free survival by nearly three-fold.
Humanigen Chief Executive and study coauthor Dr. Cameron Durrant said his team believes the results "indicate a substantial improvement in COVID-19 treatment."
---
References
LENZILUMAB EFFICACY AND SAFETY IN NEWLY HOSPITALIZED COVID-19 SUBJECTS: RESULTS FROM THE LIVE-AIR PHASE 3 RANDOMIZED DOUBLE-BLIND PLACEBO-CONTROLLED TRIAL
DOI - May 5, 2021.

RELATED Vaccines production accelerates, so do worldwide death tolls
---