Week's news analysis
---
KeyPlants, one of the pioneers
of the concept of modular installations
for the pharmaceutical industry.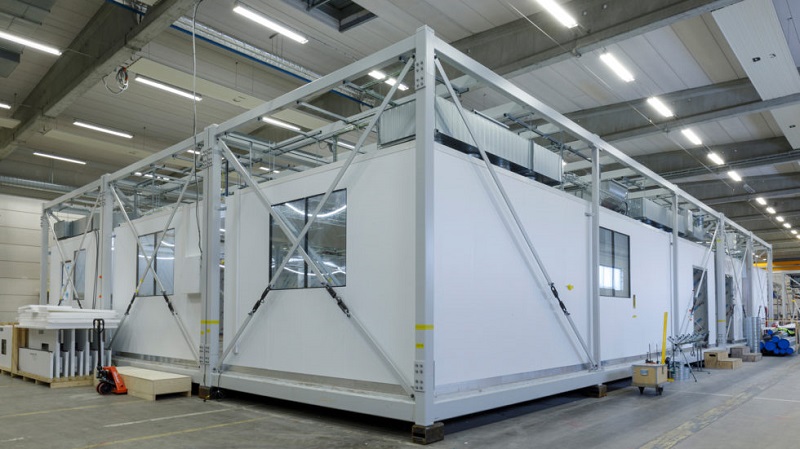 KeyPlants - Project MADIBA / DR
The pharmaceutical industry and in particular CDMOs are investing in new vaccine production facilities with modular solutions offering speed, flexibility and predictability.

Dr. Claus Tollnick, Global Head of Sterile Filling and Finishing Operations at Recipharm, spoke in PHARMAnetwork magazine about the challenges the industry faces in meeting current and future sterile filling requirements, and explains the steps Recipharm is taking to answer them on its site in Monts, France.

Last month PHARMAnetwork told you about BioNTech's project designs mobile manufacturing units based on transportable modules for the manufacture of messenger RNA vaccines, capable of responding flexibly and quickly to the appearance of new variants, particularly in Africa.

PHARMAnetwork studied designers of modular workshops in Europe for the pharmaceutical industry and CDMOs. In this article, we present to you the main manufacturer of modular solutions based in Northern Europe: KeyPlants, one of the pioneers of the concept of modular installations for the pharmaceutical industry.

KeyPlants was founded in 2010. KeyPlants, headquartered in Stockholm, Sweden, is a leader in the clean room manufacturing space for the life science industry. The team has managed and executed more than 220 modular and conventional projects in Sweden and worldwide, for companies such as AstraZeneca, MSD, Eli Lilly, GSK B, Teva, and Galderma.

In October 2021, KeyPlants extended its leadership in offsite construction for the life science industry with the acquisition of the assets of Swedish Modules, KeyPlants' modular workshop partner, with over 45 years of experience in delivering over 3,500 modules to over 30 countries.

The acquisition has strengthened KeyPlants' modular plant capabilities and supports the mission to offer standardized and customized integrated plant solutions. The workshop in Vara, Sweden, 100 km from Gothenburg, has the capacity to manufacture more than 20,000 m2 of clean room per year. Project Drivers: Schedule, cost, and pre-qualification of equipment in workshop

KeyPlants offers turnkey modular Plants Off-site modular buildings offer multiple advantages, including: better predictability of costs and lead times for production workshops, a significantly shorter time to market compared to traditional workshop construction, reduced risks during reception and validation process.

KeyPlants' design platforms have been developed to simplify the construction of turnkey biopharmaceutical and pharmaceutical facilities. The pre-engineered design platforms are available for biomanufacturing and fill finish facilities, providing pharmaceutical manufacturers a fast track solution to build capacity. KeyPlants flexible facilities are based on modular solutions and can easily be expanded or adapted to future requirements.

In March 2022, KeyPlants has shipped a first-of-its-kind vaccine manufacturing filling facility to Senegal in West Africa. KeyPlants successfully completed and shipped the facility in less than 8 months. After the facility is installed and becomes fully operational later in 2022, it will be the only regional manufacturing hub on the continent outside of South Africa capable of producing finished COVID-19 and other life-saving vaccines.

The shipment of this advanced facility is an important step towards realizing the vision of Project MADIBA, led by Institut Pasteur de Dakar (IPD). The project enjoys strong support from the government of Senegal, Africa CDC, WHO, CEPI and other partners and is supported by a global collaboration of funders and companies. These include KeyPlants and MEDInstill, which provides the novel vaccine manufacturing equipment utilized in the facility.

With the capacity to produce up to 300 million COVID-19 vaccine doses annually, Project MADIBA will revolutionize access to vaccines in Africa and implement a safe, financially sustainable, and autonomous infrastructure to secure vaccine access and equity for Africa.

Due to the facility's multi-suite drug substance and fill-finish capabilities, Project MADIBA has the flexibility to facilitate the manufacture of additional therapeutics beyond mRNA vaccines and meet changing global health needs. Additionally, the portable and prefabricated design of the facility means that it is well equipped to scale-up or scale-out in line with the evolving needs of the local community.

The African Union and Africa CDC has identified vaccine manufacturing as a priority to address vaccine inequity to the continent, setting a target to manufacture 60% of African vaccine supply by 2040 and vaccine autonomy by 2060. Project MADIBA is a critical first step in achieving this goal, with this facility to serve as a blueprint for future vaccine manufacturing facilities to be built across Africa.

In November 2021, Masco Group, global provider of technological solutions for the pharmaceutical and biotech industries, has acquired a majority stake in Swedish company KeyPlants AB. The move will strengthen Masco's leadership in engineering technologies for life sciences.

This partnership will strengthen Masco Group by combining its leadership in clean utilities and process technologies with KeyPlants' expertise and innovative energy in prefabricated, modular facility solutions. It will support stronger value propositions for global supply chain challenges such as flexibility, reliability and fast-track manufacturing timelines to a global customer base of biopharmaceutical manufacturers and CDMOs focused on biologics, pharma and advanced therapy medicinal products (ATMPs), such as cell and gene therapies.

Headquartered in Milan-Italy, Masco Group has production sites and subsidiaries in Europe, America and Asia and serves more than 6000 clients globally, delivering around 300 projects per year.
TO READ RECIPHARM: How we're delivering sterile fill & finish capacity fit for the future
TO READ BioNTech invents mobile vaccine manufacturing modules
---