Week's news analysis
---
Covid-19:
The race for vaccine production capacities
Excluding the Covid impact, the injectable pharmaceutical forms market is expected to grow by 9% per year (IMS). The growing number of drugs derived from biotechnology (over 70%) is supporting the growth of this market. The manufacture of sterile forms represents an important market for CDMOs. 50% of the lyophilized pharmaceutical form volumes in sterile vials are subcontracted and 40% for the pharmaceutical forms in sterile vials.

The global market demand for anti-Covid vaccines is much higher than the current production capacities of Western countries. This demand could last for several years depending on several factors such as the duration of the effectiveness of vaccine immunization, the arrival of new variants leading to new vaccination campaigns, etc.

This demand for capacity could be an exceptional driver for the growth of the activity of CDMOs with specialized productions in injectable pharmaceutical forms. Without the contribution of CDMOs, the first messenger RNA vaccines would not be delivered to the market from the start of 2021.

For the past two months, the race for industrial capacities to deliver the first doses of vaccines to the market has been raging... laboratories have been faced with a colossal industrial challenge: to manufacture hundreds of millions of doses as quickly as possible. Whoever is able to respond to this health emergency will be in a good position to win a large number of global markets.

To vaccinate 70% of the European population it will be necessary to manufacture more than 650 million doses in the case of vaccines with the administration of two doses per person. The population of the poorest countries represents more than 2.5 billion people to be vaccinated.

The enormous challenge posed by the quantities of vaccines to be produced in the shortest possible time and the design of new generations of vaccines based on the appearance of variants, completely disrupt the landscape of the pharmaceutical industry ...

Biotechs specializing in messenger RNA technologies (Moderna, BioNtec, Curevac, etc.) have taken the lead ahead of big pharma historically specialized in vaccines (GSK, Sanofi, Merck & co Novartis,, etc.). Agreements have been forged between these biotechs and big pharma (BioNTech agreements with Pfizer, Curevac with Bayer) in order to benefit from the expertise and the established infrastructure of big pharma in areas such as clinical operations, business regulations, pharmacovigilance, medical information, supply chain management and support for logistics operations.


RELATEDTracking the vaccine race
CDMOs involved in all stages of vaccine development
Almost all of the major pharmaceutical companies with a potential vaccine candidate have used contract manufacturers to help them meet production targets. For example Catalent Inc., one of the largest contract manufacturers in the United States, has signed several vaccine manufacturing contracts with AstraZeneca and Johnson & Johnson
In May 2020,
Moderna
entered into a 10-year strategic collaboration agreement with Lonza to enable larger-scale manufacture of the vaccine at Lonza sites in the US and Europe. Also in the same month Moderna signed an agreement with
CordenPharma
for the manufacture of lipid excipients used in the vaccine. In July 2020 Moderna entered into an agreement with
Laboratorios Farmacéuticos Rovi
to carry out the production step concerning the filling / finishing of the vaccine in its factory in Madrid, Spain. In December 2020, Moderna, and
Recipharm
have reached an agreement to support formulation and fill-finish a part of the Moderna COVID-19 vaccine supply outside of the US.
Catalent
provides vial filling, packaging capacity, for the US market, at its organic plant in Bloomington, IN, USA.
CureVac
has started the Phase 2b / 3 clinical trial with its SARS-CoV-2 mRNA-based vaccine candidate. Curevac anticipated the large quantities to be produced by ambitiously expanding its network of subcontractors.
Rentschler Biopharma
contributes to the large-scale manufacture of mRNA formulated for CVnCoV. The companies entered into a collaboration in November 2020 with the set-up of dedicated production lines at the Rentschler Biopharma site in Laupheim, Germany. Currently, optimization of the production process is taking place to increase mRNA yield. It is expected to produce more than 100 million doses of the CureVac vaccine per year in Laupheim.
In November, CureVac N.V. and
Wacker Chemie AG
had signed a contract for the manufacturing of CureVac's COVID-19 vaccine candidate CVnCoV. WACKER ramp up GMP production of the mRNA drug substance for CVnCoV at its biotech site in Amsterdam. It is planned to produce more than 100 million doses of the CureVac vaccine per year.
In December, CureVac N.V. and
Fareva
announced an agreement regarding the fill & finish manufacturing of CureVac´s COVID-19 vaccine, CVnCoV. Fareva will provide the production capacity for filling vials with the vaccine and the diluent at its sites in Pau and Val-de-Reuil, France, supporting the production of millions of doses of CureVac's COVID-19 vaccine candidate.
Curevac has planned to deliver 300 million doses in 2021 and 1200 million doses in 2022. In order to meet these production targets, first week of February,
GlaxoSmithKline
and CureVac announced the manufacture by GSK of up to 100 million doses of CureVac's first generation COVID-19 vaccine candidate CVnCoV in 2021. A new and € 150m collaboration, building on their existing relationship, to jointly develop next generation mRNA vaccines for COVID-19 with the potential for a multi-valent approach to address multiple emerging variants in one vaccine. Curevac anticipates the implementation of new generations of vaccines in order to preserve the efficacy of the vaccine when new variants of the virus emerge. Indeed, alert signals were issued by South Africa on February 7 which suspended its vaccination program with AstraZeneca following questions about its effectiveness on the South African variant.
Vaccine deliveries for the EU down from initial forecasts
Three vaccines are currently authorized in the European Union (EU), those of
Moderna
and
Pfizer-BioNTech
and
AstraZeneca
. The manufacturers may well have increased their production targets for 2021 (1 billion doses for Moderna, around 2 billion for Pfizer-BioNTech), the current production rate is not strong enough to meet the urgency of demand.
At the end of January 18 million doses had been delivered to the European community by Pfizer / BioNTech and 850,000 doses by Moderna. For the second quarter Pfier commits to deliver 75 million doses.
After two months of the start of production, the quantities produced are impacted by the availability of raw materials and the yields of manufacturing operations, Purification, Formulation, Fill & Finish ... the challenge being to coordinate the supply of all on a global scale. supplies that go into the production of vaccines and to anticipate with suppliers the increase in production capacities.
Operational returns are sometimes disappointing at start-up. AstraZeneca (Cambridge, UK) revealed in January yield problems for the production of large-scale viral vectors for the AZD-1222 vaccine at the
Novasep
site in Seneffe, Belgium. AstraZeneca will only produce 40% of the doses promised to the EU in the first quarter, according to Reuters.
---
Source: EFE
Brussels (Belgium), Feb 6 (EFE), (Camera: Leo Rodriguez).- The director general of the European Federation of Pharmaceutical Industries & Associations (EFPIA), Nathalie Moll, acknowledged in an interview with Efe that laboratories overestimated their production capacity for Covid-19 vaccines, causing distribution delays.
---
Germany is in talks with BioNTech and other COVID-19 vaccine makers about possible funding to help them secure capacity and raw materials, Health Minister Jens Spahn tweeted on Saturday 6 february. The discussions follow a government "vaccine summit" this week with state leaders and representatives of pharmaceutical companies and the European Commission to discuss progress in vaccinating the population.
Delays to the European Union's vaccine rollout and concern about new coronavirus variants make it harder for European governments to ease current pandemic restrictions. "At the Vaccine Summit, #BioNTech outlined a potential funding requirement of up to 400 million euros for reserving capacity and raw materials into next year. We are in exchange with the company to further firm this up," Spahn tweeted. "We are also talking to other #vaccine manufacturers about this," he added. "We want to secure sufficient capacity for Germany, Europe and the world for 2022 in case of problematic mutations or necessary booster vaccinations."
German Finance Minister Olaf Scholz said on Saturday he was angry that more COVID-19 vaccines were not ordered last year as EU chief executive Ursula von der Leyen renewed her defence of the European Commission's record on rolling them out.
The increasingly pressing calls from the international community
World Health Organization
chief Tedros Adhanom Ghebreyesus called on more pharmaceutical companies on Friday to share manufacturing facilities to help ramp up the production of COVID-19 vaccines.
The WHO also said its technical advisers would meet next week to assess versions of the AstraZeneca vaccine from the Serum Institute of India (SII), the largest vaccine maker, and from South Korea's SK Bioscience ahead of a possible WHO emergency listing.
Speaking at an online news briefing from Geneva, Tedros said almost 130 countries with a combined population of 2.5 billion people were yet to administer any vaccines, and repeated his plea for rich nations to share doses with poorer countries once they have vaccinated health workers and older people. "But we also need a massive scale-up in production," the WHO director general said."Last week, Sanofi announced it would make its manufacturing infrastructure available to support production of the Pfizer/BioNTech vaccine. We call on other companies to follow this example." !
Partnerships between rival big pharmas
In order to increase the number of doses delivered per quarter as quickly as possible, improbable partnerships, until now, between generally rival big pharma have emerged in January to collaborate in research or production of vaccines.
Sanofi
partners with major vaccine players Pfizer and BioNTech to produce 100 million doses of rival vaccine. The first batches will be delivered from Sanofi's site in Frankfurt, Germany, by August. At the end of January, Novartis signed a first production agreement for the Pfizer-BioNTech COVID-19 vaccine.
Novartis
plans to begin production in the second quarter of 2021 at its state-of-the-art aseptic manufacturing facility in Stein. The first shipments of finished products are scheduled for the third quarter.
Despite these announcements, the EU is seeing a slower-than-expected vaccine production rollout. New hopes were raised by
Johnson & Johnson
, which announced on February 4 that Janssen Biotech, Inc., has submitted an application to the US Food and Drug Administration (FDA) requesting Emergency Use Authorization (EUA) for its investigational single -dose Janssen COVID-19 vaccine candidate.
Strong expectations aroused by
Novavax
whose president and CEO of Novavax, Stanley Erck said he wanted to produce 2 billion doses of his vaccine per year, at a rate of 150 million per month. The most difficult part right now is coordinating all the logistics of the vaccine production supply chain on a global scale.
A difficult period to go through
The production of the two main mRNA vaccines (Pfizer / BioNTech and Moderna) will gradually increase over the coming months. PHARMAnetwork has drawn up a table of possible quantities produced according to the start-up dates of the various industrial sites (CDMO and big pharma) in Europe. However, the capacities indicated are production objectives to be reached as soon as the production operations are fully operational. A period of several months of successive improvements and increased supply of raw materials and packaging items will be necessary to achieve these production targets. The production reinforcements will arrive at the end of the first half with the industrial sites of the CDMOs and after the summer of 2021 for the industrial sites of the big pharma.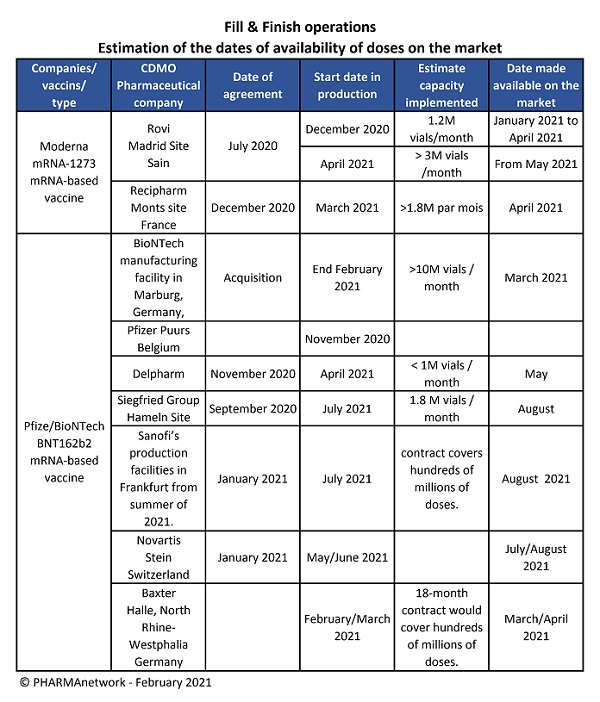 ---