Week's news analysis
---
CordenPharma announces entry into Oligonucleotide manufacturing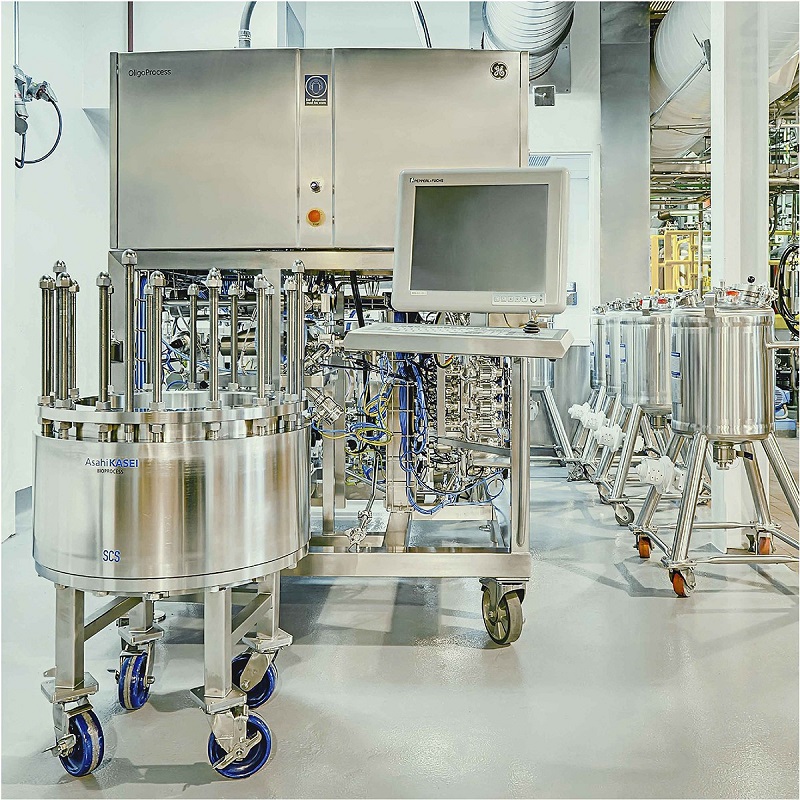 [Photo by CordenPharma] Oligonucleotide Manufacturing at CordenPharma Colorado (US).
Leveraging decades of solid-phase peptide manufacturing experience and extensive downstream processing capacity and capabilities, CordenPharma announces entry into the synthetic Oligonucleotide manufacturing arena in CordenPharma Colorado. With an organic capex investment in Two Phases, the strategic expansion will provide innovative biotech and pharma customers with a fully-integrated API to Drug Product service offering organized under a new Oligonucleotides Platform.

Phase One is the reconditioning of existing laboratory space, purchase of development equipment, and hiring of an expert team to set up process and analytical development capabilities, with a target completion in Q4 2023.

Phase Two, which is being initiated at the same time as Phase One, includes the redesign of existing manufacturing space to create a fully GMP compliant manufacturing area housing synthesis, cleavage, downstream processing and lyophilization at 10-100 mmol scale. These manufacturing assets provide early to mid-phase clinical trial supply for customer demands, with the benefit of being fully-integrated with Italian facility CordenPharma Caponago for Lipid NanoParticle (LNP) formulation service offerings and sterile filling capability, as well as with multiple CordenPharma sites for the supply of standard and custom Lipid synthesis capabilities.

Furthermore, future expansions are being planned to increase capacity and scale capability. These high-demand services are being strategically designed to supply customers with validation and commercial supply solutions to address the largest gaps in the oligo market.

Dr Michael Quirmbach, CEO & President of CordenPharma Group commented: "Our entry into oligonucleotide manufacturing is strategically aligned with our goal to provide customers complex modalities and innovative supply solutions. The CordenPharma Colorado team brings profound peptide manufacturing and purification expertise and instills confidence in our ability to make informed investment decisions for an anticipated smooth and seamless manufacturing initiation. Combining Oligonucleotide API manufacturing with LNP Formulation Development, custom Lipid supply, and extensive Aseptic Filling capacity allows us to offer our customers bespoke service offerings with a truly end-to-end experience."

With scientific expertise and partnership at its core, CordenPharma provides customers high-value, end-to-end services with a strategic focus on Peptides, Oligonucleotides, customized Lipid Excipients, Lipid NanoParticles (LNPs), sterile Injectables, and the extensive supply of Small Molecules (both Highly Potent and Regular Potency).

In January 2023, CordenPharma has announced the signing of a multi-year agreement commencing in 2023 for the contract manufacturing of a large-volume peptide at its CordenPharma Colorado facility.

The manufacturing agreement will potentially cover a value of ca. USD 1 billion, depending on actual production over the term of the agreement, and will support the launch of an innovative peptide.

CordenPharma is pursuing a large investment program across its global facility network to expand capacities and technologies in key areas such as Peptides, Lipids, and Injectables, with an overall planned investment of > €200M in 2023.

The CordenPharma Group is comprised of 12 facilities across Europe and North America. In the 2022 financial year, the organization generated sales of 870 million Euros and had over 3,000 employees.
TO READ Siegfried opens global Development Center for Drug Products in Barcelona
---