Week's news analysis
---
Buyouts speed up among Big Pharma
in spite of Covid-19
If the first weeks of 2021 did not look like those of 2019 (the biggest agreement of history was announced on January 2 with BMS acquiring Celgene under a transaction of $74 billion), nor those of 2018 (with Sanofi spending $16.6 billion to acquire Ablynx and Bioverativ and Celgene merging with Juno Therapeutics in a deal worth up to $9 billion), acquisitions are still on top of Big Pharma's priorities.

February 3, Jazz Pharmaceuticals agreed to pen a deal worth up to $7.2 billion for cannabinoid GW Pharmaceuticals, whose epilepsy med Epidiolex could become a blockbuster in sales. The deal, which is not cheap, will move Jazz Pharma into the epilepsy market, expanding its products portfolio beyond sleep disorders and cancer. The collective Jazz and GW teams will bring highly complementary expertise to a pro-forma pipeline of 19 clinical development programs across neuroscience and oncology, including in sleep, epilepsy, movement disorders, psychiatry, hematology and solid tumors.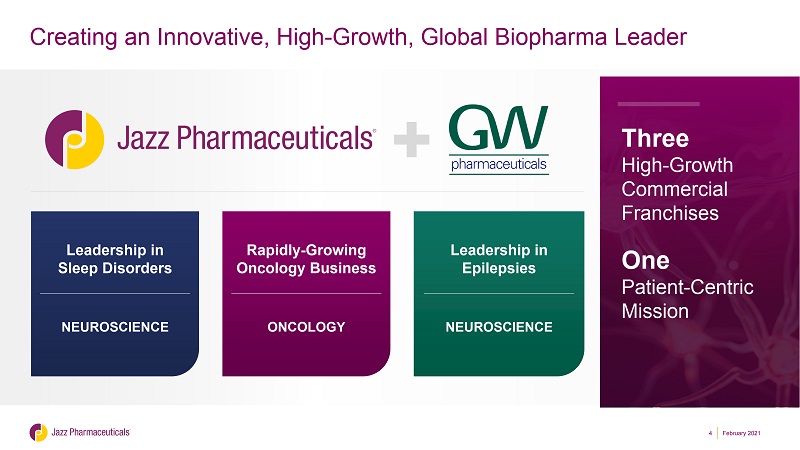 The UK-based GW Pharma develops therapies derived from the marijuana plant, and was the first company to receive FDA approval for a cannabinoid-based therapy. Epidiolex has hit approximately $510 million in annual sales within two years of its launch. This product has also been approved, under the tradename Epidyolex, by the European Medicines Agency (EMA). It is indicated for the treatment of seizures associated with Lennox-Gastaut Syndrome (LGS), Dravet Syndrome and Tuberous Sclerosis Complex (TSC), all of which are rare diseases characterized by severe early-onset epilepsy. GW Pharma also has cannabinoid products in the pipeline for autism and schizophrenia, as well as a late-stage candidate, nabiximols (Sativex outside the U.S) designed to treat spasticity in multiple sclerosis. It kicked off a phase 3 trial of nabiximols in November and expected to start four additional late-stage studies into 2021.

In spite of lockdowns, social distancing restrictions, economic breakdown, the pharma industry recorded an amazing 2020 year in terms of acquisitions and partnerships. According to Global Data figures, the total value of mergers and acquisitions (M&A) deals in the pharma/biopharma industry during 2020 was $228 billion, the second largest in the last five years. This figure was only down 13 % from 2019. It seems crystal clear that companies use M&A as a source of innovation and development, to save ever-growing cost of internal R&D investment. It is likely that this trend of mega-deals will continue. Bristol-Myers Squibb CEO Giovanni Caforio confirmed that another deal is well within the company's reach this year, due to its significant financial flexibility. In October 2020, the company had already unveiled a $13 billion deal to buy MyoKardia.

Apart from Jazz Pharmaceuticals and GW Pharma, several pharma companies have announced substantial deals since the beginning of the year. Once again, Sanofi used the J.P. Morgan conference as a backdrop to unveil a new deal that will strengthen its positions against immune disorders and dermatitis. The French company, which is facing delays in developing its two vaccine candidates against Covid-19, entered into an agreement to acquire Kymab for $1.1 billion. The purchase of the UK biotech will give the company full rights to an anti-OX40L monoclonal antibody (KY21005) that improves outcomes in atopic dermatitis patients. In 2020, KY1005 met both primary endpoints of a Phase IIa trial in patients with moderate-to-severe atopic dermatitis whose disease could not be adequately controlled with topical corticosteroids. Kymab's pipeline also includes an oncology asset KY1044 currently in Phase I/II development. One year ago, Sanofi had already struck a deal to buy Synthorx for $2.5 billion before going on to pay $3.7 billion for Principia Biopharma and $358 million for Kiadis. Like the Kymab takeover, these deals gave Sanofi autoimmune and immuno-oncology drugs.

In the meantime, Novartis penned a deal with BeiGene company to in-license its PD-1 inhibitor tislelizumab in major markets outside of China at an upfront cost of $650 million plus up to $1.55bn in milestones. The Chinese previously had a deal with Celgene on this product which terminated in 2019 after the group's takeout by Bristol Myers Squibb. Novartis said tislelizumab's first filing outside of China is expected in 2021. Last but not least, several medical devices deals were also signed in January, totalling around $10 billion in the fields of technology comprising wearable cardiac monitors and software allowing patients to be evaluated remotely. It was the case with Hillrom purchasing Bardy Diagnostics or Philips acquiring Biotelemetry for $2.8 billion.