Week's news analysis
---
Avid Bioservices completes first phase expansion
of Myford Facility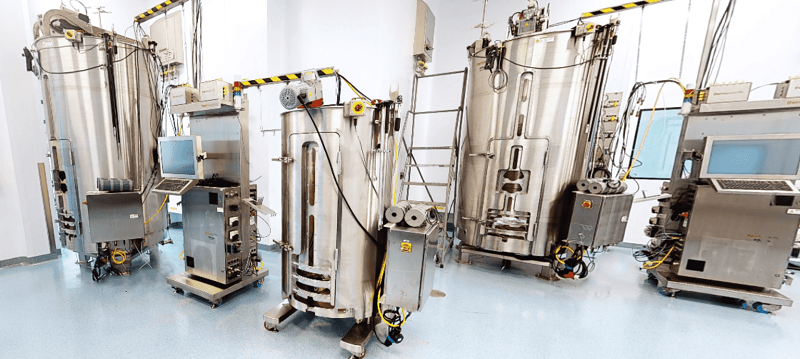 Avid Bioservices - Myford Facility / DR
Avid Bioservices, Inc. announced the official opening of the second downstream processing suite within the company's existing Myford North facility. This new downstream processing suite was constructed as the first phase of the company's two-part Myford facility expansion. Avid has completed its validation of equipment and is now actively scheduling new business into the suite.

"With this milestone, we now have two fully operational downstream processing suites within Myford North, significantly increasing the facility's capacity and revenue-generating capability," stated Nick Green, president and chief executive officer of Avid Bioservices.

Combined, the company estimates that the first and second phases of its Myford expansion will result in a total revenue generating capacity of up to approximately $270 million for the mammalian cell business annually. Avid also recently announced plans for a strategic expansion into the cell and gene therapy market through the construction of a world-class, purpose-built 53,000 square foot viral vector development and CGMP manufacturing facility. It is anticipated that total annual revenue generating capacity will increase to approximately $350 million with the addition of the viral vector business.

With 28 years of experience producing monoclonal antibodies and recombinant proteins, Avid's services include CGMP clinical and commercial drug substance manufacturing, bulk packaging, release and stability testing and regulatory submissions support. For early-stage programs the company provides a variety of process development activities, including upstream and downstream development and optimization, analytical methods development, testing and characterization.

On Friday, October 29, 2021, the company was included in the S&P SmallCap 600 index. The S&P SmallCap 600 Index is a stock market index established by Standard & Poor's that is designed to measure the performance of the small-cap segment of the market and is composed of 600 constituent companies in the U.S. equities market.

Revenues for the second quarter of fiscal 2022 were $26.1 million, representing a 24% increase compared to $21.1 million recorded in the prior year period. The increase in revenues can primarily be attributed to fees received from a customer during the current-year period for unutilized reserved capacity combined with an increase in process development revenues primarily associated with services provided to new customers. For the first six months of fiscal 2022, revenues were $56.9 million, a 22% increase compared to $46.5 million in the prior year period.

Gross margin for the second quarter of fiscal 2022 was 35%, compared to a gross margin of 30% for the second quarter of fiscal 2021.

For the full fiscal year 2021, revenues were $95.9 million, a 61% increase as compared to revenues of $59.7 million in the prior year period.

The company is confirming revenue guidance for the full fiscal year 2022 of $115 million to $117 million.
RELATED Biovac to start making Pfizer-BioNTech COVID-19 vaccine in early 2022
---