Week's news analysis
---
7 CDMOs are laureates of France Relance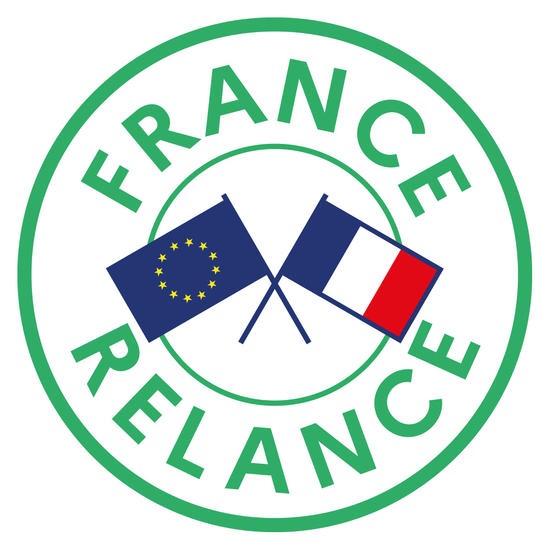 France Relance Logo /DR
The call for expression of interest (AMI) "Capacity building" is a mechanism of the French government resulting from the Program of Investments for the Future. It aims to finance research and development projects, and to support the industrialization of health products. Designed as a lever to increase French industrial capacity in health products intended to fight the pandemic, it provides immediate responses to fight against the spread of COVID-19 and its variants.

AMI Capacity building: The 25 new winning projects are intended to participate directly in the fight against the pandemic and will ensure the resilience and strengthening of health industries in France. These new winning projects represent an industrial investment of around 585 million euros and have benefited from a total amount of Government aid of nearly 365 million euros, (i.e. an aid rate of over 60%) paid in the form of repayable advances. If the objectives of the projects are achieved, nearly 50% of the aid paid can be converted into grants.

Among the successful winners, 14 projects focus on strengthening the entire COVID-19 vaccine production chain and represent state aid of 184 million euros. Among these 14 projects, 7 CDMOs are laureates: ABL Europe, CORDEN PHARMA, GTP TECHNOLOGY, PCAS (SEQENS), DELPHARM, UNITHER:

ABL Europe - Alixan (26) - Auvergne Rhône-Alpes region
ABL, a subsidiary of Institut Mérieux, carries out clinical research and bio-production activities on behalf of biopharmaceutical and biotechnology companies. In a French and European context of bio-industrial sub-capacity, this investment project will allow the development and equipment of the Rovaltain site, recently acquired by the company, in order to produce commercial batches of viral vectors necessary for the manufacture of COVID-19 vaccines, and other treatments in oncology, rare diseases and infectious diseases. The ambition of this project is also to strengthen France's position in innovative technologies. A recruitment of 15 people is planned in Lyon.
CORDEN PHARMA
- Chenôve (21) - Bourgogne Franche-Comté region The project aims to set up new production capacities for very high purity lipids intended for LNPs (Lipid NanoParticles) necessary for the formulation of mRNAs for anti-COVID-19 vaccines. This relates to custom lipids which are specific for each vaccine and standard lipids which go into the preparation of all vaccines. Investments include the expansion of process development laboratories, the establishment of new industrial synthesis and purification capacities as well as the modernization of existing production lines. The project will create 34 jobs.
GTP TECHNOLOGY
- Labège (31) - Occitanie Region GTP Technology, a subsidiary of the GTP Bioways group, will create a new manufacturing unit biopharmaceutical at its Toulouse site. Through this project, GTP Bioways will be the only CDMO in France to offer pharmaceutical quality (GMP) production capacities for the production in microbial system of proteins for vaccine or therapeutic purposes, as well as critical reagents necessary for the manufacture of mRNA COVID vaccines. Recruitment related to the project will be at least 30 jobs.
RELATED GTP Bioways invests 12 million euros in two GMP production units for biomedicines
PCAS (SEQENS)
- Porcheville (78) - Île de France region This investment project in lipid production capacity for mRNA vectorization will ensure local and integrated production of lipids which is an essential and strategic component in the mRNA vaccine value chain. Thanks to the development and industrialization of these vectoring agents, using innovative technologies, Seqens is able to guarantee competitive, efficient production and ensuring a high level of health safety for the supply of vaccines in Europe. 10 jobs will be created with the project.
PCAS (SEQENS)
- Porcheville (78) - Île de France and Aramon region (30) - Occitanie region This investment project in development and production capacities of new families of polymers for nucleic acid vectorization will support the second generation of nucleic acid-based treatments for the management of Covid-19 , and more broadly for infectious diseases and oncology by providing France with a wide range of complementary technologies on water-soluble and non-water-soluble polymers. The increasing integration of polymers constitutes one of the major avenues of research for the development of new and improved vectorization systems to improve the bioavailability of drugs.
DELPHARM
- Chambray-lès-Tours (37) - Center-Val de Loire region Delpharm Tours is a pharmaceutical factory for the production of sterile and non-sterile liquid drugs, subcontracted for the French, European and global markets. The sterile forms already manufactured on the site are glass vials and ampoules as well as plastic ophthalmic vials. The project will allow the creation of a workshop for manufacturing, aseptic filling under isolator, automatic candling and packaging of pre-filled syringes within the CDMO Delpharm Tours site. The workshop will be operational at the end of 2022 to provide a capacity of 30 million syringes per year. It will be able to accommodate the production of vaccines, innovative drugs and drugs of major therapeutic interest. The project will allow a workforce growth of 30 to 40 jobs.
UNITHER
- Amiens (80) - Haut de France region The objective of the "EUROJECT" project is to build an innovative industrial tool making it possible to fulfill 1 billion ready-to-use doses of COVID vaccines at a unit cost less than the presentation in multidose vial. To do this, Unither will build a new building dedicated to filling vaccines and in which lines will be installed using the BFS (Blow-Fill & Seal) technology. The project will allow the creation 200 jobs.
RELATED UNITHER invests 68 million euros in the innovative project: Euroject
---